Web Design for ROI is a book I wish all of my clients would read. It covers everything from what type of content to include, to how to arrange and organize it, to how to use analytics to increase conversions, to how to track the Return On Investment to make a hard-numbers business case for your website activities. It's even got some good quotes you can use in arguments.
The book explains in simple language how to ensure that your website adds value to your business. It's like Paco Underhill's
Why We Buy
, but for the web.
"…trust your gut, but verify. By all means, take chances, fly like an eagle and swim with the sharks. All we ask is that when you climb out of that shark cage, allow metrics to tell you which instincts are worth further investment and which just aren't panning out. Without some sort of testing and validation cycle, the home page is vulnerable to design driven by ego and politics, rather than accountable – if visionary – strategy and verifiable goals."

Been there, lived that.
Useful to heads of departments and anyone involved in creating online marketing campaigns or content for their company's website, this book is even more valuable if the web site is the business – which is the case for most Online Entrepreneurs.
---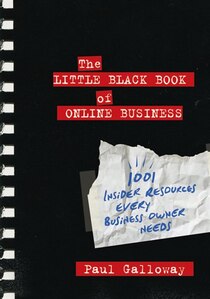 The Little Black Book of Online Business is so chock full of linky goodness I wish I'd had it a decade ago. Not only does it have lots of juicy links to spice up your online activities and help make you money, it has explanations of commonly used terms and whole sub-industries related to online and new media. The best part is that if you buy the book, there's a secret that will let you use it to gain access to the author's site for the book, where all the links are nicely organized and ready for bookmarking.
Some sample chapter headings should give you the idea:
Advertising
Affilliate Marketing
Article Marketing
Autoresponder Services/Software
E-Commerce Integrated Systems
Payment Gateways and Payment Solutions
Enough said. If that doesn't motivate you to at least check it out, I don't know what else will.
---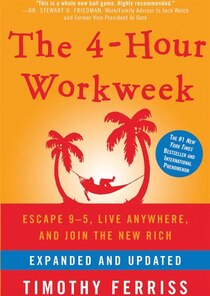 The 4-Hour Work Week is my favourite title of the lot and the one that ties the other two together into a coherent package.

With Section titles like "Outsource Your Life" and "Income Autopilot", and detailed how-to information in each section, this book is a wealth of useful information. Not only does the author tell you how he's doing it, but he explains step-by-step how anyone can take his approach. He's basically invented a "Lifestyle Design Pattern" that includes business plans that can be applied by anyone in a fill-in-the blanks kind of way.

The first part of the book is a little airy-fairy self-help sounding, so if you don't have any patience for that crap, skip to "Step II: E is for Elimination" to start cutting the clutter from your day-to-day. Or if you think you're a whiz at time management, skip ahead to "Step III: A is for Automation".

The nitty-gritty sections where he talks about how to pick a niche and a product, how to market, how to structure your approach to it all, and how to set it up so everything's automated are pure gold.

In fact, once it sinks in (which in my case took over a year) and you start to see the results of taking this advice, you'll probably rave about it yourself.

That's all for now. I'll give you all a tweet when I stumble across more treasure. @DaboEbensen
---
Was talking to my brother about The 4-Hour Work Week book, and as brothers will he tried to poke holes in it. His argument was "and who says he did all of this?" to which my answer can only be "him". It's not like I went out and researched each and every one of his assertions about his own history, but that's irrelevant.
What I should have said was that after over 17 years in the industry, I know when somebody's blowing smoke about technical details like web server setups and SEO. I know those details are true because I've independently researched them or created similar setups myself.
I also know that the numbers Timothy Ferriss quotes are plausible given my own knowledge of the industry i.e.: the numbers on sites I've personally worked on.
Since I know from my own experience how it's done, why question the rest?
In your face, bro! I'm just kicking myself for not seeing it sooner.